* Publicatie in het kunsttijdschrift MURZE, issue Six 'Colour', UK | June
* S.E.A Art- Texel, Science Encounters Art 2019
Trots als medeoprichter van S.E.A, Science Encounters Art- Texel!
S.E.A heeft kunstenaars gekoppeld aan wetenschappers van het NIOZ (Koninlijk Nederlandse Instituut voor Onderzoek der Zee), met als resultaat 10 geweldige kunstwerken , te zien en te beleven op Texel.
Zoro Feigl, Ronald van der Meijs, Driessens&Verstappen, Wim van Egmond, Eric Klarenbeek&Maartje Dros, Jan van den Berg&Hannie van den Bergh, Marcella Kuiper, Maria Koijck, Joeri Bosma en studenten van de Rietveld Academie. Ook Texelse Kunstenaars in Museum Kaap Skil, een grote tekening van mij is daar te zien.
Vanaf 1 juni t/m 31 augustus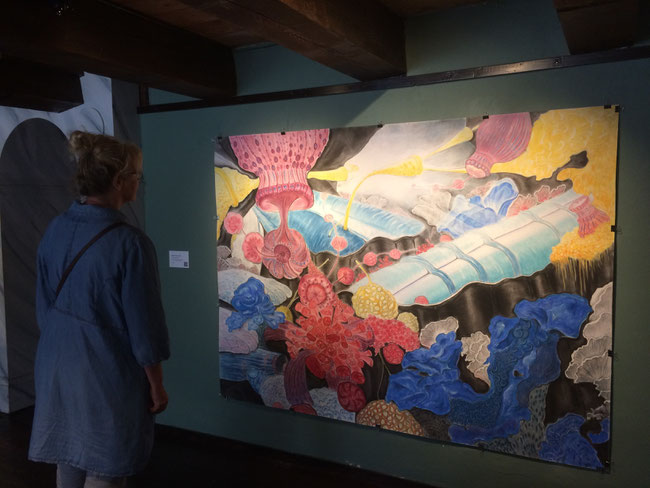 * KUNSTHAL 45, Den Helder. Expositie Kunstenaarsboeken-Boekenkunst
'Falling Apart' is mijn bijdrage aan deze mooie tentoonstelling. Vanaf 1 juni t/m 18 augustus, open donderdag t/m zondag 13:00-17:00 
* ZOMERKABINET Grootse hedendaagse tekenkunst op klein formaat
Zondag 5 mei t/m zondag 30 juni, feestelijke 'midissage' op zondag 5 mei, 15:00-17:00 uur
Ik ben erg blij dat ik één van de 100 deelnemers van de 7e editie van het Tekenkabinet ben. 
Je bent van harte welkom!
* Publicatie in het Engelse kunsttijdschrift MURZE, issue FOUR
* Expositie PASSAGE, CULTUURNACHT TEXEL - DE WIELEWAAL - 9-2-19
Groepsexpositie met Anet van den Elzen, Willem Broens en Rebecca Geskus
* Expositie SALON VOOR NIEUWE LEDEN, Museum KRANENBURGH
Vanaf 27 januari t/m 17 maart Expositie SALON VOOR NIEUWE LEDEN in het Kunstenaars Centrum Bergen 1e verdieping van villa van Museum Kranenburgh, Culturele Buitenplaats te Bergen.
* PROJECT ART FOR ADVENT, MURZE MAGAZINE
Deelname aan het 'Art for Advent Project 2018',van het Engelse kunsttijdschrift Murze Magazine met online publicatie.
Het project richt zich op kunstenaars als een kans om te experimenteren, te ontdekken en meer aandacht te krijgen voor hun werk. Kunstenaars die deelnemen aan het project worden aangemoedigd om een kunstwerk per dag te maken in de loop van de adventperiode (van 1 tot 24 december). 


'During 24 days, every day I found myself looking at a white paper, an empty paper. Sigh ... Tension, start, let go and let it happen. Lines, colors, shapes that sometimes made the paper go full in surprising and unexpected ways. But also no longer knowing how and what, yes, that happened some days too. Strange enough, I often felt that the drawings themselves were going to determine what they wanted or what they needed. The third day I decided that this project was not about performance, but about enjoying every day working and enjoying the nice surprise that I would get every day. That made me happy, every day, 24 days long. Making a daily drawing meant that I had to build up my time every day around the drawing. Also that I had to let go my usual way of working, with great precision and detail. The result: more and more I felt free during my work and started to listen to the drawing better and better. During 24 days many images have been whirled around my head, day and night. Often I woke up at night with a clear picture of what my next drawing will be. These images have become real drawings a few times. Did I use them unconsciously, or did they use me to get on the paper and be freed? The Art for Advent project brought me to a deep daily contact with my work. No excuse, no distraction: the paper, the chalk, the pencil and me. A beautiful Christmas present!'
* TEKENING VAN HET JAAR 2018
Ik ben één van de 50 genomineerd voor 'Tekening van het jaar 2018'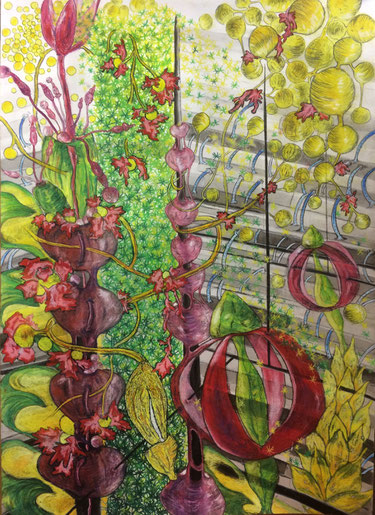 * RECENSIE EINDEXPOSITIE NAU van Pakscha van Slooten
NAU Alumni 2018
LOODS 6 , Amsterdam
There are some common denominators in this totally nice alumni show of the Utrecht part-time art academy NAU (Nieuwe Academie Utrecht).
For one : it is the rather high quality of the participants themselves and their contagious enthusiasm.
The other is , that there is quite a high "density" in almost all of the works on exhibit, as if the artists wanted to "stuff" their works with as much ingredients as possible -the humoristicly put together "found" garbage-ingredients of Hester van der Heijden- or the found newspaper ingredients of Tineke Weerts, or as with other artists here, just all the found in the back of our mind stuff- , which in some works such as the monumental charcoal drawings of Agatha van Amée work out extremely well.
But you have to search for more silence more space - including Gea van der Zaag underway- in the corner of : Steven van Meurs and Christien Loen , with her beautiful video of just light turning around a human skin... a simple , strong and extremely beautiful image.
Sometimes one could not very well focus on works by the distraction of the lines and corporal presence of the Loods 6 space itself, with it's darker kind of spot-lighting and all of its pillars and other visual aspects, especially with the work of Gea van der Zaag.
Very interesting I found the images of Susana Mulas Lastra who focuses in on it seems the world of micro-organisms (being a ecologist herself originally); the strong and playful cuddly sculptures of Anita Kremers,playing maybe with male/female cliché's; and the serene photographs of Kristel ter Beek, portraying our dutch vinex neighbourhoods with a sort of abstract eye and a touch of Edward Hopper's silent bestrangement.
Intriguing was the more formal research of Marleen Meijer, for example here : "into the essence of blue-ness" in her combinations of drawings, paintings ,installation and video.
* EINDEXAMENEXPOSITIE NIEUWE AKADEMIE UTRECHT 2018
Eindexamenexpositie in Loods 6 (Java Eiland), Amsterdam. Vanaf 30 juni t/m 8 juli